With the holiday season officially upon us, it's time to start cooking again! It's safe to assume that when preparing dishes for your loved ones, you want to be on your A-game in the kitchen. But, trying to find the best recipes for all of your festive occasions can quickly become overwhelming with so many options to choose from.
Luckily, we've narrowed down some of our favorite Hatfield® recipes to try this holiday season — so you can enjoy a simple process and delicious outcome. Explore some of the tasty appetizers and main courses you can consider, and get a few great ideas for using your leftover ham below!
Appetizers to set your festivities in motion
Start your holiday get-togethers off right with a delicious appetizer that will get everyone excited for the next course. Here are some of our favorite options:
Recipe 1: Bacon Fig Jam Crostini's With Brie Cheese
This sweet and savory starter might be just the dish you're looking for to launch a season full of festivities! With just a few simple ingredients including Hatfield® Hardwood Smoked Bacon, a baguette, olive oil, fig jam and brie, this simple dish is great for last-minute holiday gatherings or occasions with a lot of guests!
Recipe 2: Grilled Tuscan Herb Pork Tenderloin Bruschetta
Another great finger food option to consider is this recipe for bruschetta with Hatfield® Tuscan Herb Pork Tenderloin. Enjoy traditional bruschetta with a tenderloin twist that packs a punch of flavor in every bite — a dish your loved ones can grab and go as they please!
Recipe 3: Spinach Bites With Italian Sausage
This quick and easy holiday appetizer will make you look like a pro at your next get-together. And, even though this dish is simple, it certainly doesn't compromise taste! The flavors of parmesan and spinach combined with Italian sausage (sweet or hot depending on your preference) are sure to be a hit.
Recipe 4: Warm Bacon Dressing Over Green Beans and Shiitake Mushrooms
If you're looking for a healthier starter for your next holiday event, this recipe for fresh green beans dressed up with bacon and mushrooms should do just the trick! This is a great option whether you need an appetizer or a side for a festive meal, and it's ready to serve in less than 25 minutes.
Recipe 5: Sausage Pinwheels 
For those that aren't that confident in the kitchen yet, start off simple with one of the easiest appetizers you can whip up — sausage pinwheels. With just a few ingredients, including Hatfield® Recipe Essentials® Sweet Italian Ground Sausage, you can quickly feed and impress a crowd at any holiday gathering.
Main course recipes that everyone will love
Recipe 1: Ham Three Ways
With this recipe, you can serve fresh, delicious ham with three different dressings: pineapple salsa, cranberry sauce with honey crisp apples and whole grain mustard brown sugar glaze. This allows your guests to choose how they prefer to enjoy their ham, and you can rest assured that no matter what they decide, the dish will be full of flavor!
Recipe 2: Tuscan Herb Pork Ragu Served Over Pasta
If you or your loved ones are big fans of pasta, consider an Italian dish topped with Tuscan Herb Pork Tenderloin. This cozy and comforting meal is simple but packed with flavor that your whole family can enjoy. If you're expecting more people, this is another perfect recipe to double as needed.
Recipe 3: Grilled Garlic Mustard Loin Filet With Fresh Veggie Salad
For a main course that will be on everyone's mind long after the holidays, try this recipe for pork loin filet and fresh salad. If you're looking for a lighter option that's equally delicious, this dish will do the trick! It's also incredibly simple to prepare, so you can have dinner ready to serve in a flash.
Recipe 4: Savory Brown Sugar Pork Mac and Cheese
Looking for something the kids can enjoy, too? Our recipe for mac and cheese with brown sugar pork loin might be just what you're looking for. This twist on a classic mac and cheese dish contains Hatfield® Savory Brown Sugar Pork Loin Filet for a cheesy and delectable result that will likely be a favorite for both the kids and the adults.
Recipe 5: Apricot-Glazed Ham
When in doubt, you can't go wrong with a classic like this recipe for glazed ham. With just 7 ingredients, you can have a full-fledged holiday dinner ready in 30 minutes. With a boneless, fully-cooked ham, you can make a juicy pork dinner that will keep everyone coming back for more.
Making the most out of leftover ham
Festivities throughout the holiday season often mean you'll have leftovers, and when you have extra ham from your latest dish, don't let them go to waste! There are ample recipes that call for leftover ham to make something new that's just as tasty. You might consider:
Recipe 1: Ham, Brie and Apple Grilled Cheese
After your festivities, you can make a holiday lunch with your leftover ham while your friends and family are still in town. This grilled cheese recipe incorporates ham, bread, honey, mustard cheese and apples for a tasty meal that's ready to go in under 25 minutes.
Recipe 2: Sweet Potato Ham Hash
If you have a holiday breakfast or brunch coming up, you might use leftover ham for this sweet potato ham hash recipe. Using a large skillet you can take a traditional potato breakfast to the next level with a combination of ingredients, herbs and spices that the whole family is sure to love.
Recipe 3: Hot Ham and Cheese Dip
Looking for an appetizer where leftover ham can help get the job done? Consider serving this ham and cheese dip for your next festive gathering! Perfect for large groups, your friends and family will love this hot, cheesy dip that they can munch on before the main course.
Recipe 4: Broccoli, Cauliflower & Ham Au Gratin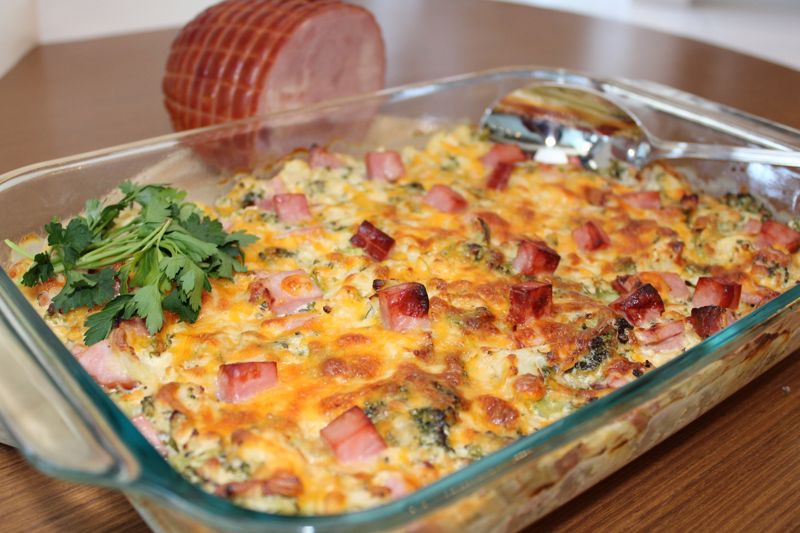 You can make the most of your leftovers by making a flavorful casserole. This dish calls for ham, broccoli, cauliflower, onion, cheddar cheese and more so your loved ones can enjoy a creamy and savory result in no time.
Recipe 5: Ham, Fig Jam & Cheddar Cheese Open-Faced Sandwich
Need to make lunch in a pinch? Put leftover ham to good use in this open-faced sandwich featuring ham, fig jam and cheddar cheese. All you need is your extra ham, cheese, jam and bread (of your choice) and you can have a delicious holiday lunch ready to go in less than 15 minutes!
Pork products that make for the best mealtime experience
For the best results this holiday season, it's always a good idea to choose top-tier ingredients — and the pork products you choose are no exception. With high-quality pork, you can ensure the best possible mealtime experience for your friends and family over the holidays.
Pork products from Hatfield® are made with quality, animal care and sustainability in mind so customers can choose ingredients from a brand they can trust. If you're ready to make a holiday meal that everyone will love, you can find the Hatfield® products you need in a supermarket or grocery store near you using our store locator.