While there's no official date for it, the holidays wouldn't be complete without Friendsgiving. This is a great way to get your loved ones together to celebrate before, on or after Thanksgiving day. We admit that you can't go wrong with a Thanksgiving staple like roast turkey or pumpkin pie, but this year is the perfect opportunity to wow your friends with a unique and delicious dish that's simple to prepare, too.
Whether you're the host or an attendee for the special occasion, here are ten of our favorite Hatfield® recipes to bring to your Friendsgiving festivities this year.
Tasty appetizers to start
Waiting for a main course can feel like an eternity when you're hungry: That's why everyone loves a great appetizer. Small portions of a delectable recipe can help guests and loved ones manage their appetite before the larger dishes are ready to serve.
Start the evening off strong with one of our flavorful recipe options:
Recipe 1: Tuscan Herb Tenderloin Charcuterie Board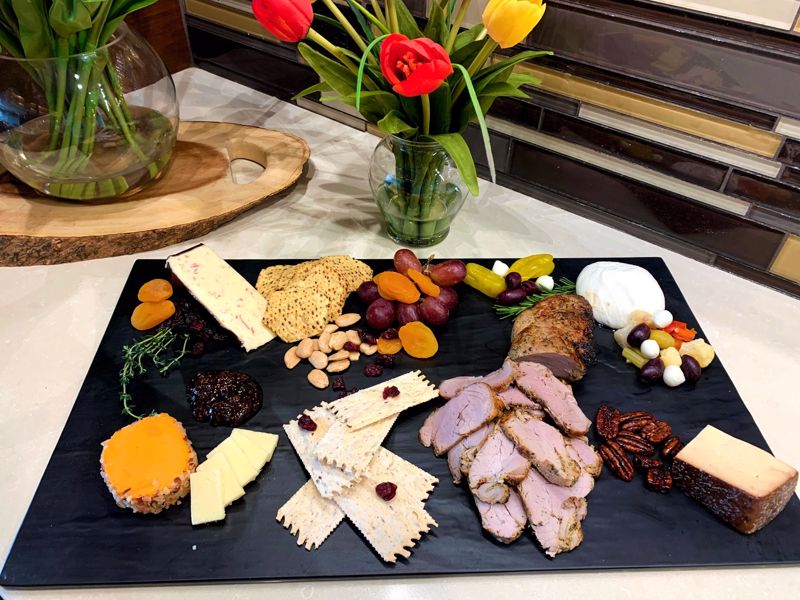 Charcuterie boards are always a popular choice, and if you've been thinking of making a spread of your own this year, consider this recipe with Tuscan Herb Pork Tenderloin. This twist on the classic board includes an assortment of grapes, nuts, crackers, olives, jams and cheeses with savory sliced tenderloin for a light and delicious start to your Friendsgiving.
Recipe 2: Sausage Cornbread Stuffing
Take a traditional Thanksgiving recipe for stuffing to the next level with Recipe Essentials® Country Ground Sausage. This pre-seasoned pork is a quick and simple way to add great flavors to one of your favorite classics. All you need is sausage, cornbread and an assortment of vegetables and spices to bring this recipe to life and impress your loved ones this holiday season.
Recipe 3: Broccoli, Cauliflower and Ham Au Gratin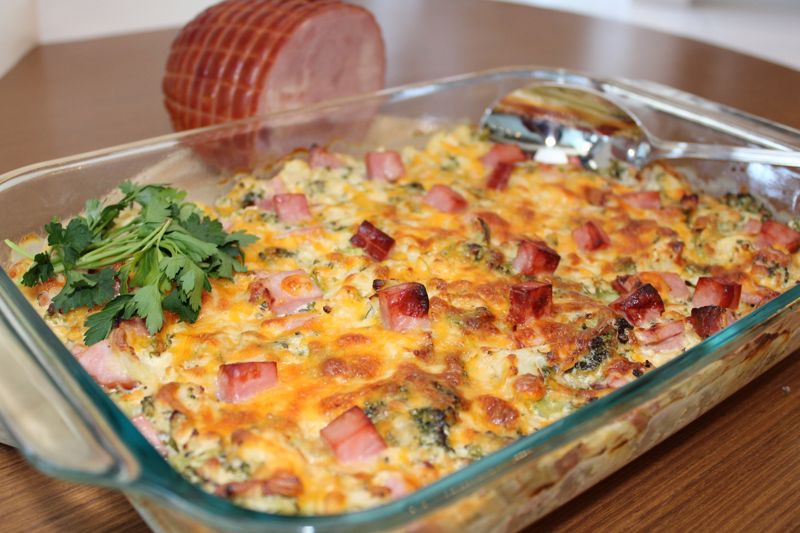 For an easy appetizer option that everyone can enjoy, you can't go wrong with this recipe for broccoli, cauliflower and ham au gratin. This savory dish is ideal to make when you have leftover ham. And, once you've gathered all of the ingredients you need, you can simply combine them and have a delicious meal ready for your friends in 30 minutes.
Recipe 4: Roasted Sweet Potato With Crumbled Bacon and Chive Sour Cream
When it comes to choosing between Friendsgiving food ideas over the holidays, you might consider these sweet potato wedges with bacon and sour cream — it's the perfect finger food. Appetizers are a great reason to make "grab and go" food, which frees you up to walk around and mingle with your guests. Once you coat your wedges with tasty ingredients — from spices and sour cream to hearty bacon like Hatfield® Hardwood Smoked Uncured Bacon – you can have everyone grabbing a piece to try in 45 minutes.
Recipe 5: Warm Bacon Dressing Over Green Beans and Shiitake Mushrooms
Bring a little green to your Friendsgiving table this year with our recipe for green beans with bacon and mushrooms. The holidays can be a stressful time, but with this quick and easy-to-cook recipe, making your Friendsgiving dishes doesn't have to be. Avoid the burden of preparing an extravagant meal by using this simple option that's just as delicious — and always a crowd-pleaser. All you need is a few slices of bacon, trimmed green beans, shiitake mushrooms and an assortment of flavorful spices and condiments and you're ready to start cooking!
Choosing a main dish for your Friendsgiving
When you think of Thanksgiving dinner, there's a good chance the first few things that come to mind are turkey, stuffing, mashed potatoes, green bean casserole and pumpkin pie. But if you've been assigned to one of the main dishes and you're looking to try something a bit different yet equally delicious, we've got you covered.
Some of our favorite Friendsgiving recipes to try this season include:
Recipe 6: Touch of Sea Salt With Caramelized Apples and Onions
Turkey is often considered an essential dish at any Thanksgiving gathering. However, this classic option can take a long time to cook and it can be hard to get it just right. For your Friendsgiving celebrations this year, consider our recipe featuring Hatfield® Touch of Sea Salt Loin Filet as a simple and delicious replacement for turkey. With only six ingredients, including olive oil, butter and honey crisp apples, this tasty entree can feed a large group of people in no time! It's pre-marinated which makes it even easier to prepare. Cooking your main course for any occasion over the holiday season has never been simpler!
Recipe 7: Sage and Sweet Potato Hasselback Pork Tenderloin
When you're running out of time but want to make something that looks as good as it tastes, try this recipe with sweet potatoes and pork tenderloin. This dish includes Hatfield® Tuscan Herb Pork Tenderloin with slices of delicious sweet potatoes. And to top it all off? A sweet and savory apricot, sherry and dijon mustard glaze! It's all simple to prepare, so you can have a mouth-watering meal your friends will be talking about long after the holidays. The presentation alone will make you look like the resident chef at your Friendsgiving!
Recipe 8: Bacon Potatoes Au Gratin With Arugula
Is someone else in charge of bringing the main meat dish of the event? Try our recipe for bacon potato casserole with arugula to complement the other delicious Friendsgiving food. This cheesy and creamy dish is a simple option that's great for the holiday season, and you'll have plenty to go around!
Recipe 9: Pit Ham With Peach and Ginger Glaze
When in search of another appetizing replacement for turkey, you can't go wrong with ham! This recipe for boneless pit ham with brown sugar and ginger glaze is a flavorful alternative that all of your loved ones are sure to enjoy. Ham is a traditional main course around the holidays and, many times, you can purchase a ham where most of the hard work is already done for you. Consider a pre-smoked, fully cooked and spiral-cut option to simplify your time in the kitchen! Once you add flavorings, you'll have a succulent dish ready to impress your loved ones in a flash.
Recipe 10: Ham and Spring Pea Pasta With Roasted Heirloom Grape Tomatoes
If you're looking for a unique and simple-to-make dish to bring to your Friendsgiving, this recipe for spring pea pasta will do the trick! It combines penne pasta and diced ham with ingredients like garlic, parmesan, peas and grape tomatoes for a light yet delectable result. This is a great choice if any of your friends or loved ones aren't big fans of classic Thanksgiving options — and you can easily double-up the recipe as needed to ensure everyone is full and satisfied by the end of the night.
These recipe options are just the tip of the iceberg: Hatfield® has an entire recipe library designed to simplify your mealtime without compromising taste or quality this holiday season. For any Friendsgiving recipe this fall, head to your local grocery store to pick up your favorite Hatfield® products to get started!
The perfect side dishes — and other tips to keep in mind
No Friendsgiving is complete without appetizing sides to round out the meal! Luckily, there are a few classic Thanksgiving side dishes that you can't go wrong with. Here are some quick and straightforward options to consider:
Cranberry kale salad.
Sweet potato casserole.
Roasted garlic mashed potatoes.
Stuffed mushrooms.
Butternut squash mac and cheese.
Roasted Brussels sprouts.
Stuffed acorn squash.
Tip: How to know when your pork is done
For recipes involving pork products, it's important to know the ideal temperature to hit to ensure the meat is safe to eat. The U.S. Department of Agriculture suggests cooking it to an internal temperature of 145 degrees Fahrenheit for perfectly cooked pork (note: This is the same temperature for every variation of pork you might choose).
Tip: Storing and freezing Friendsgiving leftovers
A special occasion with lots of food and friends often means you'll have leftovers. Whether you take them with you to work for lunch or enjoy them as a late-night snack, you need to know how to store and freeze them — to make your leftovers last and taste just as good the second time.
Storing: Wrap leftover ham in foil or place any dish in an airtight container and place it in the fridge. A fully cooked ham will be good to eat for up to 3 days. It's safe to assume other Thanksgiving dishes and refrigerated leftovers will last for 3 to 4 days.
Freezing: Properly wrap your leftover ham or place it in an airtight container and put it in a frost-free freezer. A frozen ham will last for up to 2 months without losing flavor. When it comes to your other Friendsgiving leftovers, as long as they've been frozen at 0 degrees Fahrenheit, you can store them indefinitely. Keep in mind that they'll taste best when used within 2 to 3 months.
Elevate your recipes with pork products from Hatfield®
This year, celebrate Friendsgiving with simple, flavorful and unique dishes that put a traditional Thanksgiving feast to shame. It's the perfect occasion to spend extra time with some of the ones you love most! For all of your Friendsgiving recipes this holiday season, be sure to choose high-quality pork to ensure the best results.
Hatfield® provides high-grade pork products so that you and your friends can enjoy a meal that's both delicious and nutritional. Discover more recipe ideas and when you're ready to bring your loved ones together this holiday season with appetizing recipes and top-tier pork products, use our store locator to find your favorite Hatfield® products in a supermarket or grocery store near you.